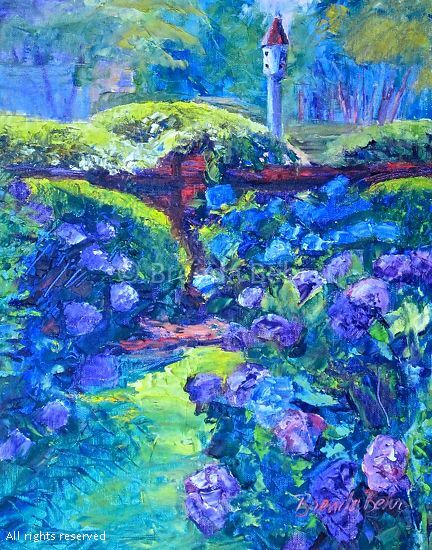 My backyard 2, 14x11" oil on panel
Once a year my backyard is magically turned into a blue-flowered fantasyland. The wall divides my backyard from my neighbor's so do know that I have an itty bitty backyard. This is a good thing, as it allows me more time to paint. I am so glad this year I captured the beautiful hydrangeas, each one a slightly different shade of blue. Light like this is fleeting. In the afternoon the house totally shades this side of my property, so capturing the light in the morning is key.
My first My backyard was borderline abstract. I shared it on facebook. Let me know if you're one of those who missed it there and wants to see it. This one includes the birdfeeder which brings it back to something more representational, I hope not too much so. Don't want it to look like a Kinkade, God rest his soul. Just pretty, but not too pretty.