"Coffee, dark and medium roast", Oil on panel diptych, ea. panel 6x8"
After a week like last week, I'll take the paint thinner.
Just joking. If you're an artist, there is nothing funny about getting your values down. I don't mean morals here; I'm talking about tonal value. I think value reality has been the most challenging thing for me to hold onto in my paintings. Somehow, when I add color, it's like putting on value-blinders. Think for a moment how azaleas can be the most vibrant pink in a landscape. But if one were to convert them to a "black and white" photo, they would come out a 50-60% medium grey. Intensity of color (chroma) can have little to do with its value.
These paintings stand on their own without full color. A painting without a range of values, however, falls apart. "Hold fast to your values" is a good practice regardless of the intended definition of the word "value".
Artist Carol Marine knows the great importance of value in representational painting. That's why in the recent workshop with her that I attended, she gave us assignments to do value studies. This particular lesson also addressed composition, but talking value is enough for now.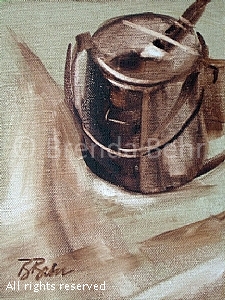 Brush washer
8x6", oil on panel