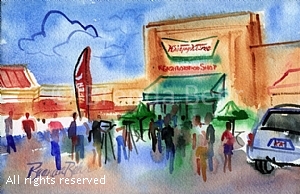 "Grand Opening"
5 1/2 x 8 1/2" watercolor
$115. in archival mat
In North Carolina, Krispy Kreme is a big deal. Having sold many watercolors of the Peace and Person location in Raleigh, I know the popularity of this North Carolina born and based doughnut king. So when I saw Sunday night on the news that a new Raleigh location would be opening on Monday morning, I checked my schedule and decided I had time to run up and paint the new shop. I was not disappointed with the event or with the little painting I did. Two years ago, another of my Krispy Kreme paintings was awarded honorable mention in the State Fair. The person who bought the painting wanted a copy for his business as well as his home, so prints were made. I'll include the image below.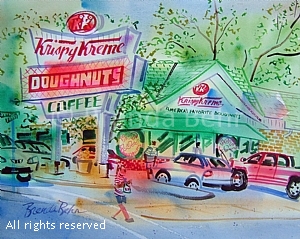 "Hot to Trot"
14 x 18" watercolor