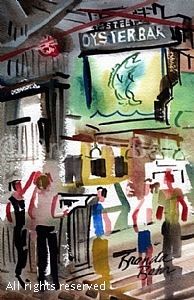 "Summer eve at 42nd Street Oyster Bar"
5 1⁄2" x 8 1⁄2" watercolor
Almost forgot! The folks at this popular Raleigh seafood restaurant are good enough to let me come in and paint. Thanks guys! I did this one Tuesday evening after I'd had enough heat on the sidewalk. On a hot day nothing beats a cool spot and a cold drink. Happy hour prices in the bar on shrimp and oysters are pretty cool too. Email me if you're interested in the painting.